You don't see many shops online with an "About Us" page. However, we feel that it is important for our customers to know about us, and understand the kind of service that we can provide for you. We are two brothers, Chris and Patrick Cloutier. We have decided to build a business around outstanding customer service with unparalleled quality service.
Pat Cloutier - Technician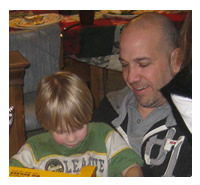 Pat is a master certified technician who has been working in the industry for over 20 years. Pat knows what it takes to keep a car running. Unlike many mechanics who are basically "parts changers", Pat uses an engineering understanding to trouble shoot and repair cars. The result is savings in the customer's pocket.
Pat is a family man with 6 children. He's a great Dad and brings the same kind of caring that he has for his children into his work life. Feel free to walk to the back of the shop and ask what he is doing to your car. He will give you all of the information you need. You might even ask him about music (He plays the bass guitar.) or about his kids, or challenge him to a game of chess (He loves games, especially chess.), though you might prefer to wait until he has finished with your car.

Colin Watson - Customer Service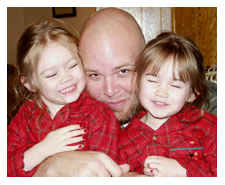 Colin is the face of the company, or at least the face, and voice you will hear the most when calling or stopping by Lonestar Auto Repair. Colin knows the service industry including bar tending, and his last stint in radio as a promotions manager. It was destiny for him to come work for us after these last few years of working for the classic rock station Lonestar 92.5!

Colin doesn't have any children yet, but loves his nieces Emma and Claire, and the good thing is he gets to leave them with mom and dad when they get cranky. Colin also is a musician, drummer, who has played in just about every one of Chris' bands. And Colin likes to get together with his father once a week and play racket ball. If you ask Colin about anything, it better be Cowboys, the Dallas Cowboys that is! Oh and ask him about his Dallas Cowboys art collection, it is VERY interesting.

Scott Gagne - Technician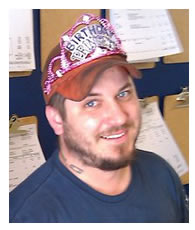 Scott has been around this shop for a while as a technician, but he is new to our family! Scott fits right in with his dry (and I mean desert dry) sense of humor. Luckily everyone here grew up on late night channel 13 T.V. including Monty Python and Benny Hill (You don't get much drier then that).
Scott is happily married to Sarah, and has 4 boys he is trying to raise up to be men, and carry their weight much like their papa. Scott is really good at what he does and really likes digging into high performance vehicles. Scott interests include collecting fish and fast cars. He also aspires to be in movies one day... good luck with that! Oh and if you ask him who his favorite person to work with is, of course it would be Chris!


Trevor Cloutier - General Service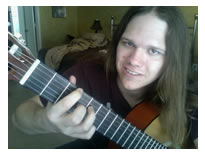 What? Another Cloutier? Yes there are millions of us! Trevor is our general service guy. He does one of the best oil changes in Texas! Plus he helps Pat and Scott out with other day to day operations.
Trevor also happens to be one of Patrick's kids (no wonder he so good at this auto repair stuff!). And as you can see in the picture Trevor is one amazing guitar/bass player as well. Musicians definitely run in the Cloutier family!

Jorge Montoya - Technician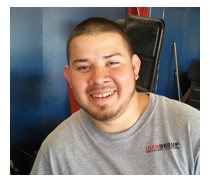 Jorge is one of our technicians now. In the year he has been with us he has shown us nothing but great things! Jorge likes candle lit dinners, walks on the beach… oh wait, sorry wrong bio… Jorge likes cars. Yes when he leaves work after working on cars all day, he goes home and works on his own car! So you can say that Jorge is one of those lucky people that loves his job.
Jorge has two other brothers (he is a middle child) and a girlfriend (sorry ladies). He likes to listen to hip hop (we are trying to corrupt him with rock n roll) and lucky for him (and Colin) he LOVES the Dallas Cowboys… now that I think about it that is probably why Colin suggested we hire him so badly! All kidding aside Jorge is a great new addition to our growing business.
Clifford Cotton - Customer Service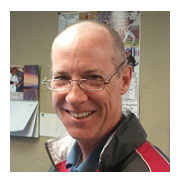 Clifford Cotton is Colin's new partner in crime! Both of them being guilty of delivering you the best in customer care! Clifford is the proud father of two boys and one girl. He is also married to a wonderful wife. I can say that in all honesty because she let him come to work for us!
Here is an interesting fact about Clifford, he used to be one of our customers, and liked what we did so much he decided he wanted to be a part of what we do. WOW that is huge. Oh and he is still a customer too! Also if you ever see a guy holding up a big bass or catfish on the side of highway 66 yelling don't worry it isn't a mad man, it is probably Clifford!
Chris Cloutier - Business/Customer Service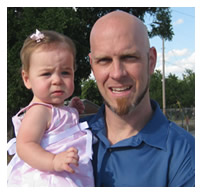 If Pat is the brawn behind the business, Chris is the brains (or so he thinks, but we have to let him do something). Chris runs the business side of the shop. Chris is a natural entrepreneur. He has started several businesses on his own and uses a "hands-on" approach to business. He is a software engineer by trade.
Chris has a lovely wife, Amy, who stands behind most of his crazy adventures, and two adorable daughters. Chris is into self-improvement, and if philosophy is your "thing", Chris enjoys sharing and listening. Chris also loves music and plays in a local band. Chris doesn't play chess, but he is a heck of a soccer player (at least thats what he thinks). (Editors Note: We love Chris but he lives in a fantasy world where he knows things... and does important stuff...)
Read Chris' blog!
Both the Cloutier boys were raised by supportive parents who instilled all of the needed virtues, honesty, hard-work, caring and sharing.

Please feel free to contact any one of us at lonestarautorepair@gmail.com.